Free legal advise or all women - Sandown
Tuesday, 14 August 2018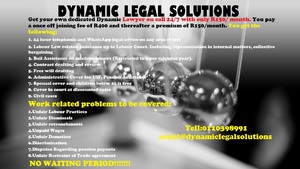 Contacts

maureen

0110398991
Item description
Get your own dedicated Dynamic Lawyer on call 24/7 with only R149/ month. You pay a once off joining fee of R400 and thereafter a premium of R149/month. You get the following;
1. 24 hour telephonic and WhatsApp legal advice on any area of law.
2. Labour Law related assistance up to Labour Court. Including representation in internal matters, collective bargaining.
3. Bail Assistance on misdemeanours (Restricted to 2 per calendar year).
4. Contract drafting and review
5. Free will drafting
6. Administrative Cover for UIF, Pension Assistance
7. Spousal cover and children below 21 is free.
8. Cover in court at discounted rates.
9. Civil cases

Work related problems to be covered.
1.Unfair Labour Practices
2.Unfair Dismissals
3.Unfair retrenchments
4.Unpaid Wages
5.Unfair Demotion
6.Discrimination
7.Disputes Regarding pension payouts .
8.Unfair Restraint of Trade agreement.